NASA's Orion spacecraft will include 3D-printed parts
05/17/2018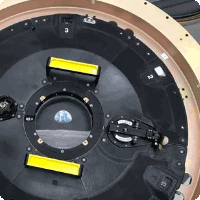 A partnership between Stratasys, Lockheed Martin and PADT is bringing 3D printing to a US-led manned spaceflight for the first time.
Orion's unmanned test flight, called Exploration Mission-1 (EM-1), is currently slated for takeoff in December 2019. That mission will pave the way for EM-2, a spaceflight that'll have astronauts on board when it launches to the vicinity of the moon in the early 2020s.
EM-2 will use more than 100 3D-printed parts, making it the first manned US-led spacecraft to use parts made through the process. The largest 3D-printed part is a cover on the spacecraft's docking hatch, which will protect it from the harsh external environment. Other parts include brackets and smaller elements.
Read the Full Article
HERE