As China Moves from Volume to Value, So Do Robots [ IW ]
Industrial Robots Key to Strategy
News By : Dick Herman
08/04/2015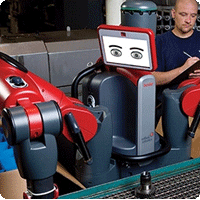 The Diminishing Role of Low-Cost Labor Models
There's no doubt that, for decades, China was able to supply the world with inexpensive, low-quality clothing, toys and other goods on the backs of low-paid workers. Now, rising wages in China and competitive pressures on low-cost labor from other regions, including South America and Eastern Europe, are at the heart of the rationale behind the Made in China 2025 plan. 
At the same time, U.S. and European manufacturers have come to realize that it's simply no longer viable to compete by chasing low-cost labor. Rising wages, combined with a volatile global economy, increasing product complexity and changes in consumer expectations around customization for everything from cell phones to luxury vehicles are forcing manufacturers to rethink supply chains and find ways to tighten the gap between innovation and product delivery.
The Digitization of Manufacturing Changes Everything
In April 2012, The Economist wrote about the Third Industrial Revolution, where manufacturing moved from mass production to mass customization. In the factories of the future, the authors wrote, 3-D printing, more dexterous robots and a range of Web-based services would make it possible for manufacturers to be able to respond quickly to changes in demand and deliver smaller lots tweaked with customer preferences. It's these types of operations – flexible, highly responsive to shifts in economic conditions and consumer demand, and driven to continuous improvement – that China, the United States, Germany and other industrialized nations are seeking to design, build and operate.
Enter the Smart, Collaborative Robot
What does all this mean for industrial automation – and, more specifically, for industrial robots?
Read the Full Article
HERE