3-D tech and manufacturing team up to make bigger, better printer
New technology capable of printing an engine block
News By : Kate Nixon
03/19/2015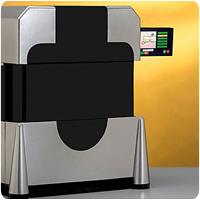 Parker Hannifin is partnering with +Mfg to build a new 3-D printing platform large enough and stable enough to print an engine block.
"Parker was our first choice for the motion control because we knew its reputation in this field," says Paul Saleba, a +Mfg associate.
At the time, Parker offered motion controllers for numerical path planning, but they were in beta testing with the Parker Automation Controller (PAC), which is far better suited for 3-D numerical control and includes all the features they needed, like pre-processed path planning, path smoothing, tool correction, among others. The question then became, would +Mfg be willing to apply a nascent controller to its nascent 3-D machine?
The company agreed to collaborate with Parker on co-developing their respective products.
"By doing this it gave us the opportunity to put the PAC through its paces on a real life machine and find any bugs," says Aaron Turano, Electromechanical Territory Manager for Parker Hannifin's Automation Group / Electromechanical Division.
Read the Full Article
HERE