Apple gears up to challenge Tesla in electric cars
IPhone Maker Has 100s Working on Design of a Minivan Like Vehicle
News By : Margaret Nixon
02/13/2015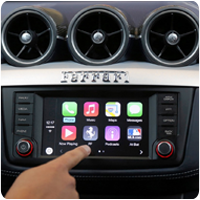 Apple Inc. has revolutionized music and phones. Now it is aiming at a much bigger target: automobiles.
The Cupertino, Calif., company has several hundred employees working secretly toward creating an Apple-branded electric vehicle, according to people familiar with the matter. The project, code-named "Titan," initially is working on the design of a vehicle that resembles a minivan, one of the people said.
Apple hopes to put its stamp on the electric vehicle market in the same way it did the smartphone with its iPhone, said a person familiar with its work. Even though Apple defied expectations of slowing growth with a 30% rise in revenue in the quarter ended December, the company is under constant scrutiny of where its next breakthrough product will come from.
Read the Full Article
HERE